When you enter the online market space as a senior entrepreneur, you might worry that you'll get left behind with many aspects – from terminology to technology. Some tasks, like blogging, sound intimidating at first.
But once you dig in, you'll find that the system is easy and painless if you follow along with some simple strategies in place. Senior bloggers love being able to use this platform to share their knowledge and build a dedicated following.
Plus, the fact that it's an inexpensive business model makes it perfect for senior citizens to share in a competitive environment without having to dip into their retirement income to get started or to grow their business.
As we age and technology flies by faster than we can keep up, we often feel a bit of confusion with each and every update. Some seniors have to call upon their kids or grandkids in an effort to help them navigate some technology like apps on their phone.
But others are adept at keeping up with change on the fly. Whatever group you fall into, you won't have to worry when it comes to blog technology. WordPress is a very easy platform to install and use for your new online home.
With the click of a button (literally), you can have your blog installed on a domain of your choice. Then, all you have to do is customize the set up so that it suits your needs for your company.
WordPress has a section for settings, and you can simply go through each one to determine what your preferences are. For example, you can control how the URL looks for people or how the comments will work on your blog.
WordPress has many built in free themes to choose from. You can have some with large headers or small ones, some that showcase images or those where text is more prevalent.
There are also special themes you can buy for your WordPress blog if you find something you like better than what's available at no cost to you. WordPress itself is free, so once you buy a domain for about $12 and monthly hosting, which can cost under $10, you shouldn't have any additional costs for your blog.
Many people have created video tutorials for WordPress users, so you can watch over the shoulder of someone as they install WordPress, fill their sidebar with links or text, publish and page or post, and more.
Make sure you keep your blog secure from hackers. The best way to do this is by regularly watching for updates. If WordPress or any plugins or themes on your blog give a notification that there's an update available, go ahead and install it.
Hackers often get into a blog when there's a vulnerability, which is why WordPress and plugin creators release more secure updates to keep your blog safe from intruders. You'll see available updates in the upper left corner of your dashboard whenever you log on.
Keep a Relevant Focus on Your Blog
Many senior marketers have so much they want to share, and the excitement of having a platform to do that gets the best of them. Instead of methodically launching multiple blogs to release information to a targeted audience, they simply do it all from one blog.
This is a mistake because your blog should have a dedicated topic, whether that's a broad slant in a niche or a narrow one. For example, a broad slant would be gardening. It's perfectly okay to have a blog about gardening as a whole.
A narrow slant would be container gardening or vegetable gardening. These are also great topics for a blog. You can even mix some niches, like gardening and health and have a blog slanted for Gardening for Heart Health.
If the niche topics make sense to be mentioned together, such as health and vegetables, then it's okay to open up a discussion or slant your entire blog to target the mixed niches.
But what you don't want to do is make your blog a free-for-all when it comes to topics you discuss there. For example, you might launch a healthy garden blog. But one weekend, you buy an old Ford truck to renovate and you want to start posting on your blog about it.
Or, you start getting into baking cookies and cakes and decide to share those tips on your healthy garden blog. These are not of interest to the target audience who arrived on your domain expecting to find information on healthy gardening.
If you want some sort of catch-all blog for your personal thoughts that isn't part of your business, you can start a blog just for that purpose and make it a general slant. That way, you don't turn off your loyal readers or force them to sift through the irrelevant posts to try to find something viable on the blog they expected to relate to a certain topic.
Whenever you sit down to create a blog post, make sure you're looking at keywords and phrases to see how others are searching to find information. You might always assume people say raised bed gardening, but keyword research will show you that some people use elevated bed gardening, so you'll be able to attract more readers with a simple mixing of wording options.
How to Keep a Consistent Blog Schedule
Once your readers enjoy your content, they're going to be hungry for more. Some can get demanding about your publishing schedule. Those who aren't vocal about it may simply find someone else to follow and read if you are inconsistent with your blog schedule.
You never want to bite off more than you can chew. Trying to keep up with a stringent schedule, such as one or more blog posts per day, might make you burn out in exhaustion.
It's almost worse when an audience gets used to frequent blog posts, only to have everything dry up when you can't keep up with the previous pace you set for yourself. So make sure you're capable of keeping up with the blog schedule you set up.
One way you can do this, if writing from scratch becomes too much for you, is to use premade private label rights (PLR) content in your niche. PLR is content someone writes and then sells to multiple buyers.
Those buyers can then tweak it (edit it to their style) and put their name on it as the author. So you might not feel like writing, or may not have time, and a batch of PLR articles can be posted to your blog to free you up for other things.
When you get PLR, you can mix and match content, delete things from it, add things to it, add personalization, add links to promote products that you recommend and more! You can buy reports and eBooks and break them up into many blog posts – it doesn't have to be labeled as blog post PLR.
Once you have the content you need for the week, you don't have to set an alarm and wake up to hit the publish button for each daily post. WordPress allows you to automate the scheduling of each post.
So you can queue up your blog posts and have them set to go out for an entire month or longer if you want! This is perfect for seniors who may want more time relax or time to travel, without having to be tied to their laptop every day.
If you're building a list from your blog, which you should be, you can have your blog post go live and then schedule your email autoresponder to go out with a link to your blog for your subscribers.
Having everything automated takes a big burden off of you. And you can do it as far or as little in advance as you want to. If you just want to spend one day a week queueing up posts and emails for the upcoming week, you can do that, too.
Mix the Media on Your Blog
Being able to blog is a great way to spread information to your niche target audience. Many people read blogs even more regularly than they tune in to the news. This is especially true if they stumble upon a blogger whose personality resonates with them and whose information and tips are effective and insightful.
Most bloggers simply use text to share the things they want to say. The text blocks built into WordPress make this process simple to carry out. You can change the size, color and other features of the text.
You can also turn the text into a hyperlink so that when your reader clicks on it, it opens the link in a new tab and still allows them to stay on your blog in the original tab. Many affiliate marketers find this strategy useful.
But you don't want to only use text to convey information to your readers. You want to take advantage of some multi media options that satisfy even more visitors to your blog and gives them a chance to bond with you in more than one way.
Images are always good to use on your blog. It breaks up the content and makes it easier and more enjoyable for your readers. You can have images that you download for free on stock sites like Pixabay.
Or, you might have images like infographics posted on your blog, where there's a flow of information distilled down into the basics for your visitor who doesn't have time to read a lengthy blog post.
Audio can be embedded onto your blog, too. There are times when it's helpful to just speak the message, rather than type it all out. Or you may have readers who visit and don't have time to read because they're on the go.
For these people, who may be commuting to engaging in exercise like jogging, it can be helpful for them to listen to the blog post via audio file. You can start a podcast and embed the file for them to listen to right at the top of your post.
Video is another create way to blog, and it's often called vlogging. You can create a video with you on camera to build a stronger bond with your audience. Or, use screen capture software to record a presentation while you speak about the topic.
Video sites like Vimeo and YouTube make it easy to embed the videos on your blog. You can also make sure the settings allow other bloggers to embed your videos on their blogs if you want to, increasing the branding and exposure you get from others.
Be sure to switch things up from time to time so that your audience never knows what to expect from you in terms of media formats. It's always good to give them a nice mix so that it keeps things fresh.
Use Your Blog to Build Your Business
Getting your blog set up and posting to it regularly to share your expertise is just part of the equation for your success. You'd be surprised to know how many people fail to monetize their blog strategically.
This is a place where you can engage with your audience directly and build a stronger bond than you can do with sales copy. With a blog, your readers can comment on your posts and you can reply to them.
You can also install a simple contact form that they can click on and email you directly, allowing you to respond to their questions and inquiries easily. This will appear as a page on your blog, instead of a post.
Another thing you want to strategically do to help your business succeed with your blog is build your list in the sidebar and under the posts. Depending on what email autoresponder you choose to use, you'll be able to create a form that appears on your blog where your visitors can enter their name and email address to subscribe to your newsletter.
This list building effort from your blog ensures you don't lose contact with your audience. Instead of relying on them to happen to return to your blog to see what you have to offer, you get to reach out to them in an email series and keep your brand at the forefront of their notifications.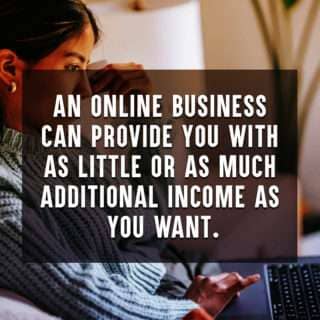 You want to also use pages to brand yourself, sell your products and make affiliate recommendations. You can also sell services like coaching, if you offer anything like that.
At the top of your blog, usually under the header or in the sidebar, you can list or showcase the things you make money from. Don't be afraid to put up offers, because as your readers begin to trust you, they'll prefer spending their hard-earned money with you over your competition.
Being a senior blogger is a great first step to building your online empire. As a blogger, you set the rules for your site. It's not like social networking sites where you have to abide by their rules on what kinds of content is allowed or who it gets shown to.
Blogging is a low-cost endeavor that packs a punch in the search engines if you go about it correctly and are diligent with your efforts. Be sure to share valuable information, engage with your readers, and maintain a consistent approach for the months and years to come.